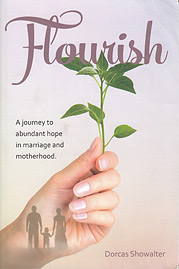 Flourish
Paper cover
225 pages
0.722 lbs
Item #4-241705
A journey to abundant hope in marriage and motherhood.
Choosing to respect your husband should be as simple as making a vow and then sticking with that decision, shouldn't it? The author of this engaging marriage book did not find it so easy.
With humble honesty and humor, Dorcas Showalter tells her story of learning to navigate—sometimes unsuccessfully—the perils of marriage and motherhood as she and her husband moved from Ohio to Idaho to Montana and to South America.
Flourish offers encouraging, Biblical counsel on becoming a beautiful woman who glorifies God by honoring her husband and accepting life's challenges with joy and contentment. Along the way, you will also learn piety of practical tips and suggestions on everything from housekeeping and home decorating, to pleasing your husband, to training your children, and much more.
As you surrender your way to His, God's grace can enable you to become a flourishing woman who brings love and joy to your husband and home.
Table of Contents

Note from the Author
Once Upon a Time...
Faith

My Journey of Faith
Seasons of Winter
Sacrifice and Reaching Out to Others
What If My Husband Isn't a Spiritual Leader?
What About Christian Women as Leaders and Teachers?
Becoming a Woman for God's Glory

Gratitude or Discontentment

The "If Only" Trap
Dishonoring Your Husband
Sowing Love and Kindness
The Power of Thoughts
The Difference in the Sexes
What About My Own Needs?

Submission or Control

Marriage Is Like a Ball Game
Can We Sic God on Our Husbands?
Submission, a Place of Abandonment
Manipulation
What If You Have Different Convictions Than Your Husband?
As Unto the Lord

When Your Love Is Betrayed

Failed Expectations or Moral Failure?
Betrayal Hurts
The Power and Mystery of Unconditional Love
Hope and Prayer
One Wife's Testimony

Intimacy in Marriage

Our Attitude Matters
Understanding Our Husband's Needs
Beautiful Inside and Out
The Power of Sexual Intimacy

Time

The Distracted Housewife
Time and Social Media
Time and the Working Mom: My Etsy Shop
Blog Land
Practical Pointers for Positive Change
Choosing Freedom From Distraction

Motherhood

Not a Hallmark Journey
Death to Self
Mommy-Guilt
Discipline
Teaching and Training in Everyday Life
Answering Their Questions
Burnout

Homekeeping

Developing the Habit of Orderliness
A Workable Schedule
Keeping the Home Clean and Tidy
Daily Upkeep
Weekly Cleaning Schedule
Seasonal Cleaning
Grocery Shopping and Meal Planning
Laundry

Beauty in the Home

What Is Beautiful to You?
Harness Your Creativity
Give the Best of Your Family
The Sacred Art of Hospitality

The Beautiful Woman

What Is Not Beautiful?
Beauty of the Heart
The Beauty of Modesty
Practical and Godly Physical Beauty
Natural Beauty Tips
Finding Time for Beauty Care

A Closer Look at the Proverbs 31 Woman

The Original Life
Proverbs 31 for Today's Woman
Reflectors of God's Light

A Prayer for Every Day of the Month
Acknowledgements
Customers who bought this product also bought
Customers who viewed this product bought