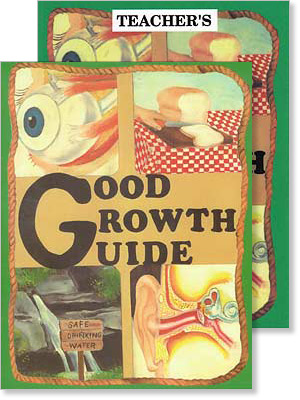 Grade 4 Health - Good Growth Guide - Set
(This course is published by Schoolaid, not by Rod and Staff Publishers.)
To the Teacher

Good Growth Guide is written on a fourth-grade level. The lessons revolve around a family, particularly the fourth-grade twins Joel and Jason, who like to study health but have to learn some lessons by experience. They learn about the importance of balanced meals and how to pack nutritional lunches. They are drilled on safety and first aid as well as taking responsibility for their actions. They are taught about the basic parts of the body and how to care for them. Intertwined in their daily education, they experience the satisfaction of common courtesy, simple manners, and Christian hospitality.

This book is divided into five chapters with six parts to each chapter. The first five parts of each chapter have exercises after each part, while the sixth part is a chapter review followed by a chapter test. Before you give the books to the students, we suggest you cut out the tests in the back of each book and store them until you are ready to use them.

One important requirement to teach health successfully is the teacher's enthusiasm and interest in the subject. How can a teacher develop an interest in health? He can study each lesson before teaching it, and plan ways to present it that will catch the children's attention. He can add interesting information of his own to supplement the lessons in the book. Extra health activities make it more interesting, too, such as charts, pictures, booklets, etc.
Suggestions for class routines, practice, and review are offered inside the front and back covers of this book.
Contents

Chapter One: A Healthy Beginning

Part One: Foods That Are Good For You
Part Two: Water and Food Values
Part Three: What Happens With the Food?
Part Four: Safety and First Aid
Part Five: Good Sportsmanship
Chapter One Review

Chapter Two: An Amazing House

Part One: The Skeleton, Our Body's Framework
Part Two: The Muscles, Our Body's Movers
Part Three: The Importance of Good Posture
Part Four: Playing Safely and First Aid for Bruises and Splinters
Part Five: Love Is Courteous (Shows Politeness)
Chapter Two Review

Chapter Three: A Living Cover

Part One: The Skin, Our Body's Cover
Part Two: Hair, A Body Protector
Part Three: Nails, Another Body Protector
Part Four: Safety on the Playground and First Aid for Brushburns and Blisters
Part Five: Learning About Good Manners
Chapter Three Review

Chapter Four: Important Parts

Part One: The Mouth, Gateway to the Body
Part Two: The Nose, Air Conditioner for the Lungs
Part Three: The Throat, Our Food and Air Passage
Part Four: Safety at Home and First Aid for Burns
Part Five: Hospitality and Friendship
Chapter Four Review

Chapter Five: More Important Parts

Part One: Our Teeth—Cutters, Choppers, Grinders
Part Two: Our Ears, Doorways to Sound
Part Three: Our Eyes, Windows to the World
Part Four: Thinking About Safety and First Aid for Bites and Stings
Part Five: Being Responsible, Doing Your Duty
Chapter Five Review

Tests for All Chapters to Cut Out
Customers who bought this product also bought
Customers who viewed this product bought