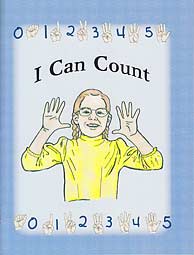 I Can Count
Paper cover
24 pages
0.18 lbs
Item #1-2994
This book shows how to draw the numbers from 0 to 10 and illustrates the hand signals for each. Each number has a full-color picture to show the corresponding value.
0

An empty cage
With nothing at all—
Not a giraffe,
Or a mouse so small.

---

1

A straight line down,
And then you're done—
This is how to make a one.

Oh, look, look, look.
See what I see?
One yummy treat
From Grandma to me!
Customers who bought this product also bought
Customers who viewed this product bought