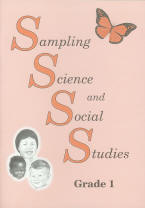 Grade 1 - Sampling Science and Social Studies
Paper cover
16 pages
0.04 lbs
Item #1-7140
Customers commonly ask about science and social studies curriculum for first grade. Rod and Staff has not prepared lessons in these subjects, because reading, writing, and arithmetic must be given primary emphasis at this level.
For those who desire these subjects, the God Is Good Series and some of the Little Jewel Books lend themselves well to teaching science and social studies concepts. This free booklet explains the contents of recommended choices.
See also: Website version of this resource...
Table of Contents

God Is Good Series
Little Jewel Books
Coloring Books
Bigger Books

Outline of Science Concepts
Seasons of the Year
Animals
Plants
Natural Resources
Human Life

Outline of Social Studies Concepts
Family Life
Work Ethics
Safety
Farm Life
Food Sources
Social Relations
Other People in Society
Foreign Culture
Customers who bought this product also bought
Customers who viewed this product bought