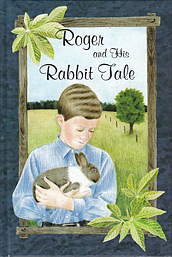 Roger and His Rabbit Tale
Hard cover
192 pages
0.842 lbs
Item #1-2651
After Mother buys a book about rabbits at a secondhand store, Roger enjoys looking at the glossy pictures. There are lop-eared, gray rabbits; black-and-white rabbits with perky ears; rabbits with dewlaps—all kinds of rabbits—but surely all would be soft, furry, and fun to play with. In fact, they are so fascinating that Roger wouldn't mind having one of each kind!
Father and Mother remind Roger that rabbits are not only fun, but also a certain amount of work. And Roger must prove himself responsible before Father will buy rabbits for him.
In the weeks that follow, Roger discovers how hard it is to break habits of carelessness and irresponsibility. Will he ever reach his goal?
A sequel to Paper Playmates.
Story Titles

1. Good Things
2. A Special Bargain
3. Roger's Responsibility
4. Father's Decision
5. The Kind Way
6. The "Ugly Surprise"
7. The Battered Truck
8. A Hard Lesson
9. The "Best Big Brother"
10. The Strange Disinfectant
11. The Mean Wish
12. Learning to Stick at It
13. The Two Rejects
14. The Mishap
15. "All Shadow's Fault"
16. Under the Porch
17. And You Will Receive"
18. Big-Brother Challenges
19. The Best
Customers who bought this product also bought
Customers who viewed this product bought