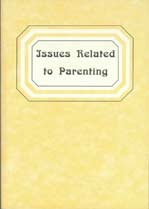 Issues Related to Parenting
Paper cover
139 pages
0.3 lbs
Item #1-2601
Buy more for less:
1-4

items

$6.90

/ each

5

or more items

$6.21

/ each

save

10%
Training children from infancy to love God, His Word, and His people and to plant the right fear of God in their hearts is still the most important responsibility of parenthood.
Concerned Christian parents are here give basic Biblical helps in a concise, easy-to-understand style.
Training the spirit of the child, preventive discipline, and character development are emphasized. Parents will find prayerful perusal of the contents fruitful in the discharge of their responsibilities.
Contents

Introduction
1. Practical Helps in Relating to Children
2. Preparation for Training
3. The Value and Potential of the Child
4. The Child—a Threefold Being
5. The Child's First Years
6. Winning the Heart of Your Child
7. The Discipline of the Child
8. Identifying and Dealing with Rebellion and Self-will
9. Coping With Peer Pressure
10. Character Development
Customers who bought this product also bought
Customers who viewed this product bought