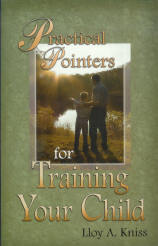 Practical Pointers for Training Your Child
Paper cover
207 pages
0.54 lbs
Item #4-241120
Buy more for less:
1-4

items

$8.50

/ each

5

or more items

$7.65

/ each

save

10%
I still remember the feeling that hit me when my wife and I found we were expecting our first child. There I was, young and inexperienced, on the way to becoming a father.
Then, and often since then, my wife and I turned to an old paradigm—one that Bro. Kniss promotes in this book: "If any of you lack wisdom, let him ask of God, that giveth to all men liberally, and upbraideth not; and it shall be given him" (James 1:5).
Our children are a trust from God. We parents are responsible to God to bring them up in the nurture and admonition of the Lord. Their success in life, their choices—yes, even their eternity—depend much on us. How we need God's wisdom!
Practical Pointers for Training Your Child is one source of that wisdom. What better place could we go, aside from the Word, to find wisdom for child training than to a godly, experienced, and concerned older person?
Grandfather Kniss draws from his broad experience for material in this volume, which is permeated with his love and concern for the family. His fatherly counsels are given in a homey and practical style.
CONTENTS

Foreword
Preface
The Bible Speaks

1 Faith in God
2 Reverence
3 Love for the Bible
4 Respect for Parents
5 Respect for Others
6 Self-Respect
7 Obedience
8 Conduct in the Church
9 Social Behavior
10 Self-Discipline
11 Honesty and Truthfulness
12 Courtesy and Table Manners
13 Diligence
14 Neatness and Order
15 Toys and Play
16 Independence and Self-Help
17 Work
18 Sex Knowledge
19 Decision Making
20 Thrift
21 Sense of Morality
22 Sense of Responsibility
23 Hospitality
24 Humility
25 Love
Meet the Author
Customers who bought this product also bought
Customers who viewed this product bought