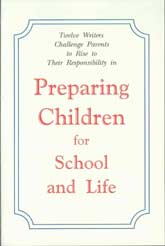 Preparing Children for School and Life
Paper cover
111 pages
0.36 lbs
Item #1-2352
Buy more for less:
1-4

items

$6.90

/ each

5

or more items

$6.21

/ each

save

10%
Twelve Writes Challenge Parents to Rise to Their Responsibility in
Preparing Children for School and Life
In nineteen chapters, twelve writers urge parents to nurture and prepare their children for mature participation and effective use in God's kingdom—"lively stones" equipped to fight the good fight of faith in their mature years, and to meet the challenges of life on this earth in these last and evil days.
The time to give this training is day by day from infancy. Here parents will find goals, and directions for meeting those goals.
Subjects treated are: diligence, obedience, facing responsibility, a healthy independence, a well-disciplined child, responsible decision making, well-adjusted social behavior, proper economic values, a Scriptural attitude toward oneself, facing life properly, the influence of the church on the child, and more. A valuable resource and inspirational book for serious Christian parents.
Table of Contents

Preface
Whose Are the Children?
Education Begins at Home
Teaching Our Children Obedience
Characteristics of a Well-Disciplined Child
Teaching Our Children to Face Life
Teaching the Child to Think Scripturally About Himself
Cultivating Diligence in Our Children
The Child and His Responsibilities
Teaching Our Children Responsible Decision Making
Teaching Our Children Economic Values
Acceptable Social Behavior
Directing Our Children's Recreational Interests
The Influence of the Church in Preparing Children for School and Life
Basic to Effective Christian Education—a Sound Philosophy of Education
Maintaining Christian Principles in a World of Conflicting Ideologies
Preschool Training—Kindergarten or Home
A Checklist
Determining Readiness
Customers who bought this product also bought
Customers who viewed this product bought