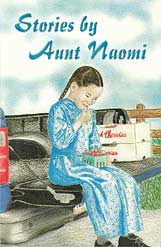 Stories by Aunt Naomi
Paper cover
111 pages
0.36 lbs
Item #1-2576
"But it's all Elwood's fault," Helen cried. "He should have seen Esther, and he should not have been swinging so high. I don't want Elwood for a friend anymore.

---

Edna looked down quickly. Oh, no! The front of her dress was stained red with cherry juice! "I ate some cherries, Mother," she said.

"Did Uncle Lewis say you may?" Mother asked.

"No. But I only ate a few," Edna answered. "Uncle Lewis doesn't care."

---

Then a naughty thought came to Mary. "Go out the open bathroom window," a little voice inside her said.

"That is just what I'll do," Mary decided. She quietly pushed up the screen and crawled out. The window was close to the ground, so it wasn't far to jump.
For children, sharing their toys, making new friends, treating animals with kindness, and obeying their parents are everyday experiences. These twenty-three stories will help children understand how God wants His people to live.
Written for 4- to 8-year-olds.
Content

1. The Swing Accident
2. A Willing Helper
3. The Happy Way
4. When Marla Forgot
5. God's Flowers
6. The Scissors and Sue
7. Thoughts of Heaven
8. Mitsy's Claws
9. Making Friends
10. Coloring Carefully
11. Uncle Lewis's Cherries
12. The Policeman
13. The Storm
14. Two Voices
15. Communion Sunday
16. Christmas Lights
17. Three Sisters
18. Hospitality
19. God's Wonderful World
20. Solita of the Philippines
21. Corazon, a Filipino
22. Morning in Nigeria
23. A Day in Nigeria
Customers who bought this product also bought
Customers who viewed this product bought