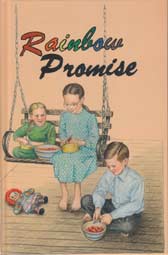 Rainbow Promise
Hard cover
195 pages
0.78 lbs
Item #1-2304
Although the three West children try to be happy and helpful when Father is gone for a month in the summertime, they miss him and find the extra responsibilities hard to cope with.
They might have been able to handle the extra load if it had not been for the accidents that happened, that Mother got sick, and that they ran out of money and a lot of things they needed at the same time.
Mother tries to keep the children contented and happy by reminding them of God's promises, and of His instructions on how His children should face the unpleasant things of life.
The summer has its bright spots too: surprises, gifts, answers to prayer, special visitors—and God's many rainbows.
In the end there is a grand surprise for Father—and another rainbow.
The children in this Christian home setting learn to rejoice, to be thankful, to bear one another's burdens, to pray, to be patient, meek, cheerful, and kind to one another, and to work as unto the Lord when tasks are unpleasant.
Contents

1. Things to Rejoice About
2. Flood in the Chicken House
3. Helping Loren
4. Plans Are Changed
5. The Children Make a List
6. Working for Mother
7. The Children Pray
8. God Keeps His Promises
9. Another Rainbow
10. Interrupted Hike
11. More Chicken House Trouble
12. A Kitten and a Picnic
13. Lorilee's Letter
14. News from Father
15. Uncle Wilmer's Surprise
16. Gifts of Apples
17. "Can He Supply So Much?"
18. God's Answer
19. "Must We Go?"
20. Working for the Lord
21. A Surprise for Father
22. Painting the Garage
23. Father Comes Home
Customers who bought this product also bought
Customers who viewed this product bought