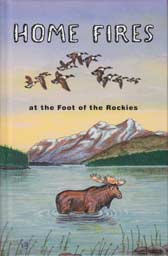 Home Fires at the Foot of the Rockies
Hard cover
304 pages
1.14 lbs
Item #1-2280
Second book of the Home Fires series.
The six Schrock schoolchildren were walking the railway tracks toward Snowshoe. Suddenly a train whistle sounded behind them, making their hearts freeze with fear... [as] they saw a large locomotive bearing down upon them. Petrified with fright, the children seem rooted to the spot....
"Move!" yelled Kathryn, the first to react. Seizing Doris' hand, she jerked her over the rail to safety. Edwin and Laverne followed—seconds before the first engine thundered by them....
"Where are Andie and Rosalie?" cried Kathryn above the roar of the train.
It seems the lively and adaptable Schrock family is always facing some excitement or emergency as they settle into their new home in the Canadian Rockies.
Mother's calm serenity and Father's faith in God and faithful application of the Word steer the family safely through every difficult situation.
A sequel to Home Fires Beneath the Northern Lights, this book also provides interesting and profitable reading for children of junior and intermediate age.
Contents

1. First Days in British Columbia
2. Across the River on a Cable
3. One Happy Family
4. Midnight Trek
5. How I Hate Them!
6. A Pound of Mosquitoes
7. Mother Rides in the Caboose
8. Back to Alberta
9. School Days
10. Shortcut
11. Ready to Go Hunting
12. Winter's Arrival
13. Torpy Wagon
14. A Job for Joanna
15. Work on the Church Building Begins
16. Thunder
17. Dreams of No Value
18. Edwin Has a Runaway
19. Forest Fire Fighters
20. Snowshoe Falls
21. On Her Shoulders
22. Needle in a Haystack
23. Andie Makes Trouble
24. A Ton of Plums
25. Digging Potatoes
26. Up Lookout Mountain
27. Joanna Handles a Gun
28. The Moose Drive
29. Crash Landing
30. Family Worship Time
31. Sunday Operations
32. The Ice Bridge
33. The Sickroom
34. Bob's Visit
35. Charlie's Last Chance
36. Holly's Fate
37. The Robin Hood Shipment
38. Marathon
39. To a Wedding
40. Kathryn and Rosalie Earn Their Way
41. The Ditchdiggers
42. New Neighbors
43. Cabin in the Bush
Customers who bought this product also bought
Customers who viewed this product bought