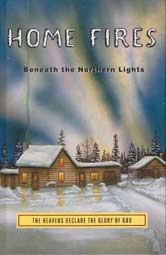 Home Fires Beneath the Northern Lights
Hard cover
315 pages
1.2 lbs
Item #1-2279
First book of the Home Fires series.
The wild wind roared through the trees, whipping her frozen dress around her. The wind stung her cheeks, and cut her throat at every breath.
"I'll soon be there," she encouraged herself. "One more step, one more step, one more step..." At last the final step was taken, and she sprang into the house.
The bitterly cold winters on the Schrocks' rugged, northern Alberta farm test the mettle of the family to the limit. All nine children, with the exception of the very youngest, know what it means to endure hardness in a physical way.
Life is not without its adventures, fears, and suspense as in winter and in summer they share the work and tackle the responsibilities that their primitive lifestyle requires.
But there are compensations; the beauties of nature, the lovely northern lights, enjoyable summer activities, family togetherness, parents with faith in God, and Christian friends.
The frictions and growing-up problems that are normal to all children give opportunity for teaching and learning Biblical truths and spiritual lessons.
Very interesting reading for children of junior and intermediate age.
Contents

1. Early Morning Victory
2. No Fun for Edwin
3. The Wrong Turn
4. The Chinook Blows
5. Fear in the Night
6. The Mighty Are Fallen
7. Edwin Makes a Discovery
8. When We All Work Together
9. Sweeter Than Honey
10. Sawdust Secret
11. The School Hike
12. Visit to the Old Homestead
13. God Spares Rosalie
14. Rosalie's Reward
15. Fish on the Menu
16. Pranks and Pine Needles
17. Flames in the Night
18. Off to the Bush for Cranberries
19. A Hermit Meets God Unprepared
20. A Proud Girl
21. Blueberry Mountain
22. "Where's Bessie?"
23. Kindness to the French Indians
24. Bible Study at the Lumber Camp
25. "Who's Crazy?"
26. Rosalie's Victory
27. Pigs to Market
28. "Don't Give Up"
29. Slab Wood for Mrs. Brown
30. Strange Folk
31. Moonlight Chase
32. Nighttime Mission
33. A Fishing Trip
34. Nose Trouble
35. Father Takes a Trip
36. Chimney Smokehouse
37. Plans in the Air
38. One Way or Another
39. Better Than Watkins
40. Claw Marks in the Butter
41. Hopscotch
42. It Is All in the Head
43. Good-bye, Alberta
44. Hello, British Columbia!
Customers who bought this product also bought
Customers who viewed this product bought