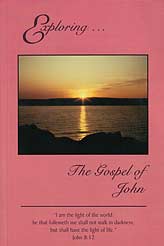 Exploring... The Gospel of John
Paper cover
203 pages
0.542 lbs
Item #1-2216
From the "Exploring..." Bible Study Series.
The writer of this Gospel calls himself "the disciple whom Jesus loved" (compare John 21:20,24), emphasizing his close relationship with Christ. The other Gospels picture John, along with James and Peter, as Jesus' close friend. But the Gospel of John never mentions John by name. This seems to indicate that he did not care to draw attention to himself.
John apparently had a deep understanding of human nature. His sympathetic portrayal of Jesus gives us a deeper glimpse into the Master's feelings and thoughts than the other Gospels do.
John also seems to have been a somewhat homegrown philosopher. He understood deep thoughts from a wide perspective. Yet he was practical and used simple language and sentence structure to present his thoughts. A careful study of John's writings should be a top priority for any Bible student.
Table of Contents

Part 1: Introducing the Gospel of John
Part 2: Introducing the Messiah (1:1-3:36)
Part 3: Israel Gets Acquainted with the Messiah (4:1-6:71)
Part 4: Opposing the Messiah (7:1-10:21)
Part 5: Confrontations with the Messiah (10:22-12:50)
Part 6: The Messiah's Last Words (13:1-17:26)
Part 7: The Jews Reject Their Messiah (18:1-21:25)
Harmony of the Gospels
Customers who bought this product also bought
Customers who viewed this product bought