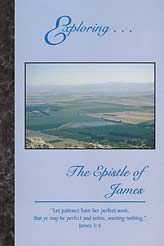 Exploring... The Epistle of James
Paper cover
80 pages
0.23 lbs
Item #1-21216
From the "Exploring..." Bible Study Series.
The Epistle of James gives us many practical teachings on how to live the Christian life. It begins by telling us to expect trials and to actually rejoice that we are counted worthy to suffer for the Lord. The writer directs us to the source of true wisdom. He speaks of the problem of hearing the Word but not doing it. He deals with the problem of partiality, the relationship of faith and works, the wrong use of the tongue, the problem of strife among Christians, the problem of pride, and the problem of loving money. He teaches us what to do when we are sick, and he instructs us on the value of fervent prayer.
A key verse is this: "But the wisdom that is from above is first pure, then peaceable, gentle, and easy to be entreated, full of mercy and good fruits, without partiality, and without hypocrisy" (James 3:17). How glorious is the wisdom that comes from God! We can have it if we sincerely ask for it.
Table of Contents

General Outline
Introduction

Part 1. Faith in Daily Living (James 1)
Part 2. Faith and Works Go Together (James 2)
Part 3. The Power of the Tongue (James 3)
Part 4. Be Humble (James 4)
Part 5. How to Face Sickness (James 5)
Suggested Answers to Study Questions
Customers who bought this product also bought
Customers who viewed this product bought