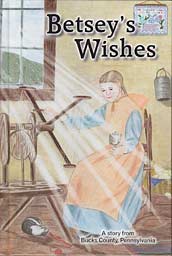 Betsey's Wishes
Hard cover
255 pages
1.01 lbs
Item #1-2128
A story from Bucks County, Pennsylvania
Betsey Fretz was a dreamy, wishful girl of ten. Her days were filled with the routine tasks that belonged to a girl in 1803. She and her five lively sisters helped their mother around the house and their father in the flax fields.
Secure in the love and guidance of her godly parents, Betsey knew that she was blessed. All the same, when she compared her life with others, it was hard to be content. Betsey had many wishes, but her greatest longing was to have a new dress of her very own, one that had not been passed down to her from an older sister.
But dresses began as tiny flaxseeds sown into the fresh April soil. Months of labor must pass before the women can even begin to spin the silky, soft flax fibers into linen thread. New dresses were hard-won treasures, made only for those who needed them.
Contents

The Family of Martin and Anna (Kratz) Fretz

1. The New Plow
2. The Limekiln
3. Betsey and the Harrow
4. Straining the Milk
5. An Unexpected Trip
6. Grandfather's Funeral
7. Sunday at Deep Run
8. Trouble in the Flax Field
9. One Summer Day
10. Sharing Gladly
11. The New Songbook
12. Chickens in the Meadow
13. Treasure in the Ditch
14. Face Problems
15. Nancy's Mishap
16. Betsey Knows How
17. One Snowy Day
18. The Little Bundle
19. An Afternoon With Father
20. The Day at Uncle Isaac's
21. Bleaching the Thread
22. Aunt Elizabeth's Example
23. Indigo Blue
24. The New Clothes
25. Betsey's Answer
Customers who bought this product also bought
Customers who viewed this product bought