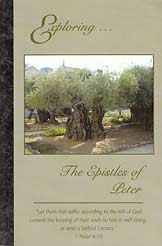 Exploring... The Epistles of Peter
Paper cover
117 pages
0.344 lbs
Item #1-21217
From the "Exploring..." Bible Study Series.
Peter began his second epistle with the words, "Simon Peter, a servant and an apostle of Jesus Christ." Peter learned early, especially after the Holy Spirit came upon the church, the value of being a servant. It was the last lesson Jesus endeavored to teach the disciples when He washed their feet. By the time Peter wrote his epistle, the problem of who would be the greatest seems to have disappeared.
In Peter's epistles, the word precious appears a number of times. Peter spoke of the precious trial of one's faith, the precious blood of Christ, a precious cornerstone, a precious faith, and exceeding great and precious promises. Most important, "Unto you there which believe he is precious" (1 Peter 2:7). Indeed, Christians find Jesus precious as they walk and work with Him.
Hopefully, the comments on these epistles will increase your love for Jesus and for the truth set forth by an apostle who loved Jesus very much. Peter's many exhortations speak to us all, regardless of our station in life.
"But the God of all grace, who hath called us unto his eternal glory by Christ Jesus, after that ye have suffered awhile, make you perfect, stablish, strengthen, settle you" (1 Peter 5:10).
Table of Contents

General Outline
Introduction to 1 Peter
Part 1. Believers' Hopes, Trials, and Joys (1 Peter 1)
Part 2. God's Precious Cornerstone (1 Peter 2)
Part 3. Counsels for Holy Living (1 Peter 3)
Part 4. A Spiritual Mind and Sober Living (1 Peter 4)
Part 5. The Duties of Elders (1 Peter 5)
Introduction to 2 Peter
Part 6. Abundant Salvation (2 Peter 1)
Part 7. False Teachers Exposed (2 Peter 2)
Part 8. "The Day of the Lord Will Come" (2 Peter 3)
Suggested Answers to Study Questions
Customers who bought this product also bought
Customers who viewed this product bought