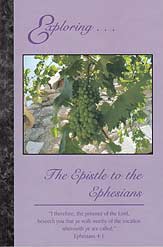 Exploring... The Epistle to the Ephesians
Paper cover
159 pages
0.43 lbs
Item #1-21209
From the "Exploring..." Bible Study Series.
Paul addressed the Epistle of Ephesians to "the saints which are at Ephesus, and to the faithful in Christ Jesus." This included not only the Christians of Ephesus in Paul's time, but also all faithful Christians down through the ages to the end of time.
What does it mean to be a "saint"? The original Greek word means "sacred" or "holy one." We cannot become saints through superhuman effort, but only through Jesus' regenerating work in our hearts. Saints are those who have been redeemed from sin by the blood of Jesus. They remain faithful in the pathway of holiness by yielding their lives to Jesus Christ. It is to these that Paul writes this profound epistle.
"Be ye therefore followers of God, as dear children; and walk in love, as Christ also hath loved us, and hath given himself for us an offering and a sacrifice to God for a sweetsmelling savour" (Ephesians 5:1-2).
Table of Contents

An Overview of the Epistle to the Ephesians
Part 1: The Blessed State of the Church (Ephesians 1)
Part 2: The Church—Her Position in Grace (Ephesians 2)
Part 3: The Church—Partakers of the Mystery (Ephesians 3)
Part 4: The Church—Her Walk (Ephesians 4)
Part 5: The Church—Her Relationships (Ephesians 5)
Part 6: The Church—Her Practice (Ephesians 6)
Suggested Answers to Study Questions
Concluding Thoughts on the Epistle to the Ephesians
Customers who bought this product also bought
Customers who viewed this product bought