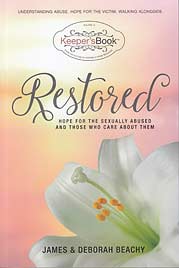 Restored (Volume 10) - "Keeper'sBook Series"
Paper cover
223 pages
0.858 lbs
Item #14-KB775
A Keeper'sBook from the editors of Keepers at Home Magazine.
Hope for the Sexually Abused and Those Who Care About Them
This book is intended for adult reading only.
I asked God, "Why didn't you let me die when I was a child? I don't want to grow up! Please let me die now!"

I thought dying was the only way my pain could end. Every night when I went to bed, I wished I would not have to wake up in the morning. I thought everyone would be happy if I died.

I felt trapped, violated, and so helpless. My brain started to go crazy. I didn't know what's right and wrong anymore. My head would hurt so badly I thought it was going to split in two. Sometimes I would inwardly yell to God, "Help me! Help me!" Other times I would just silently suffer, hoping God would see me.

The devil told me, "You know better! You were taught better than this! What is wrong with you!"

It felt like my sin was way too big to be forgiven...

—from Angela's Story
Is there hope after sexual abuse? Are the reality of words like restored, fulfilled, secure, loved, and cherished even worth considering? Does God care about the outcome of my life?
The stories and how-to in Restored shine a ray of hope into the soul of abuse victims. You're not alone. God does care. His hand reaches out to you even now. The pain of the process is worth the joy of restoration. The power of Jesus Christ prevails—even in your darkest hour.
See also:
Table of Contents

Part One: Understanding Abuse

What Is Abuse?
Soul Throbbing
Effects of Abuse
Detached
An Inside View

Part Two: Hope for the Victim

To My Cave-Dweller Friend
An Invitation to the Light
Tea Party Rendezvous
Forgiveness
Angela's Story
In Search of Healing
Sweetly Balanced
The Paralysis of Self-Pity
Fearless
The Armor of God
Wilderness
Identifying Bad Relationships
Cleaner Than Lysol
Embracing Change
What the Mirror Said
Facing the Perpetrator
From Egypt to the Promised Land

Part Three: Walking Alongside

Finding the Right words
Handy Andy
To the Husband of an Abuse Victim
A Hope and a Future
Heart Cry
It's Not About Me
Developing Trust
Night Vigil
The Perpetrator
Alive!
Customers who bought this product also bought
Customers who viewed this product bought