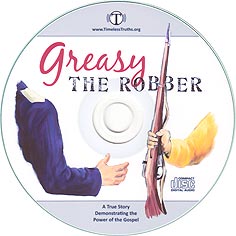 Greasy the Robber - Audio CD
Paper envelope cover
0.04 lbs
Item #74-02CD
Buy more for less:
1-9

items

$1.95

/ each

10-24

items

$1.00

/ each

save

48%

25-49

items

$0.60

/ each

save

69%

50-99

items

$0.55

/ each

save

72%

100-299

items

$0.50

/ each

save

74%

300

or more items

$0.45

/ each

save

77%
Also available in paperback.
---
Audio CD format. 1 compact disc, 1.2 hours.
A True Story Demonstrating the Power of the Gospel
Immigrants

"He fainted, and wished in himself to die, and said, It is better for me to die than to live." —Jonah 4:8

The nickname "Greasy" was given to Paul when he was but eight years old under special circumstances that will be mentioned later. His real family name was Tichomirow. He was the son of a farmer from one of the poorest villages in the Government of Mogilev. The family consisted of the father, the mother, and two children—ten-year-old Shura (Alexandra) and eight-year-old Pasha (Paul). They lived peacefully, were religious in the orthodox way, and enjoyed the respect not only of the inhabitants of their own village, but of those of all the district.

...
Contents

Immigrants
A Robber
Broken
Reunion
For Christ's Sake
O Thou Who Hears When Sinners Cry
Customers who bought this product also bought