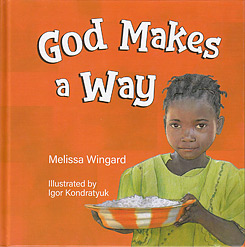 God Makes a Way
Hard cover
48 pages
0.638 lbs
Item #41-3235
Faith is a young girl living in Liberia. Life is hard, and as she sets off for school she wonders if there will be any rice for supper. She hopes so because she doesn't sleep well when she goes to bed hungry.
This story takes us through Faith's day as she does the things Liberians do so well. She carries things on her head, plays lapa ball, and eats rice—if there is any.
That evening Faith learns something she will never forget: God will make a way. He always does.
Customers who bought this product also bought
Customers who viewed this product bought