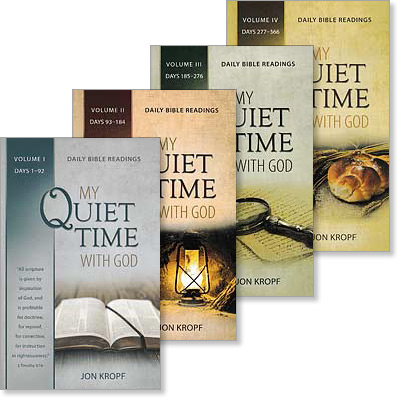 My Quiet Time with God - Set of 4
Meeting with God is the most important appointment of your day, but many demands and distractions compete with that meeting. That's why a Bible-reading plan with a few exercises may be just the tool you need. The four volumes of My Quiet Time with God...
...take you through the Bible chronologically and topically.
...provide a flexible schedule by using numbered days rather than dated readings.
...are simple enough for young readers, but stimulating for older ones as well.
...are small enough to place inside most Bibles.
...help you focus on the passages and remember them.
See excerpts:
Day 1. Genesis 1 / Colossians 1
⋮
Day 93. Numbers 3 / Ephesians 2
⋮
Day 185. 1 Samuel 19 / Psalm 59
⋮
Day 277. Esther 1 / 1 Timothy 2
⋮
Customers who bought this product also bought
Customers who viewed this product bought