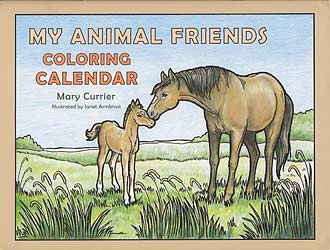 My Animal Friends Coloring Calendar
Paper cover
32 pages
0.26 lbs
Item #4-334167
This unique book provides children with an opportunity to create their own wall calendar by coloring in the picture mottoes, and writing the days of the month. It is undated, but includes thumbnail calendar dates in the front for several years ahead.
This book is designed to help your children express their creativity. By coloring the pictures carefully, they can enjoy them each day of the month. Later, verses from outdated calendars may be framed to be used as mottoes.

As children fill in the numerals for each day of the month, they will observe that a month may begin on any day of the week. Below the numerals, they may want to write birthdays of family or friends, or other important events.

We hope this calendar will increase children's interest in understanding and using a calendar regularly.
TRUST IN THE LORD [puppies]
January
GOD LOVES YOU [cardinals]
February
SEEK THE LORD [eagle]
March
THE LORD WILL PROVIDE [kittens]
April
GOD MADE ALL THINGS [horses]
May
BE THANKFUL [chipmunk]
June
DID YOU PRAY? [frog]
July
HAPPINESS IS A CHOICE [swan]
August
THIS IS OUR FATHER'S WORLD [deer]
September
GOD CARES [raccoons]
October
FOLLOW GOD'S WAY [mouse]
November
LIVE TO PLEASE GOD [lamb]
December
Customers who bought this product also bought
Customers who viewed this product bought