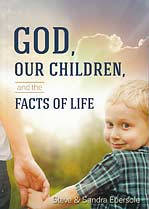 God, Our Children, and the Facts of Life
Paper cover
87 pages
0.206 lbs
Item #4-242355
As parents, we know we should teach our children about their God-given sexuality. Yet the thought of doing so often makes us self-conscious and uncomfortable.
However, God created us male and female, and His design is perfect and wonderful. God knows we can teach our sons and daughters how to be pure. He placed children in our homes, and He gives us what we need to love and instruct them. We have the privilege and responsibility to teach them a Biblical view of their bodies.
Discreetly written, God, Our Children, and the Facts of Life offers an encouraging and practical perspective on sensitive issues for parents. As parents of fourteen children, Steve and Sandra Ebersole give guidance for teaching children from toddlers to teenagers and in between. Their caring counsel prepares parents for those important conversations with precious sons and daughters.
Contents

Preface
In the Beginning, God
Lo, Children
The Facts of Life—When?
The Facts of Life—What?

Babies and Toddlers
Preschoolers
Early Adolescence
Early Teenage Years
Late Teens and Beyond

Molestation
Pondering the Past
A Note of Encouragement for a Parent Alone
Customers who bought this product also bought
Customers who viewed this product bought