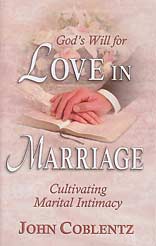 God's Will for Love in Marriage
Paper cover
96 pages
0.28 lbs
Item #4-241024
Cultivating Marital Intimacy
This is a book about marital love. It is for those who are married or engaged to be married. With frankness and Biblical honesty, the author tackles issues such as communication, marital friendship, family planning, and guidelines for marital intimacy.
In a world where love is cheap, where having more than two children raises eyebrows, and where married couples are more familiar with how to endure than how to endear, this book is sorely needed.
Whether you agree or disagree with all the ideas presented in this book, you will be challenged to examine your own views in the light of Biblical principles.
Contents

Publisher's Note
Christian Family Living Series
Introduction

1. Biblical Perspectives of Love
2. The Character of Love
3. The Action of Love
4. The Communication of Love
5. The Fruit of Love
6. The Endurance of Love
Customers who bought this product also bought
Customers who viewed this product bought