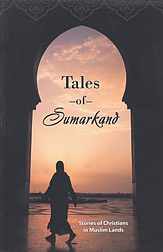 Tales of Sumarkand: Stories of Christians in Muslim Lands
Paper cover
178 pages
0.566 lbs
Item #3-35227
Krie was deep in thought, staring absentmindedly at the large map of the world on the wall. Suddenly, he started. A land he had never seen before rose into view before him....
Krie held very still. He hardly even breathed. He was very curious. What kind of people lived there? Were they like him—with nice houses, good neighbors, and lots to eat? Did they know the Lord?
---
The shameless purpose of these tales of Sumarkand [accounts that have been fictionalized to protect identities] is to urge you to get involved and to help build the Road. Hearken! The Voice may be calling you to pray or to lend some other help to make a Way for His people in Sumarkand.
Please read carefully. Not everyone who claims to be building the Road is building straight or gathering out all the stones. The lovely people of Sumarkand deserve only the tried and true, only the original. If you know what true Christianity is, then this book is for you.
You may find the people of Sumarkand to be quite charming, but they have stories that will disturb you. Their stories may not fit your view of the world and how it should work, but please do not put them out of your mind, because these stories are all too true for those who are living them out.
Contents

1. Introduction
2. Going to Sumarkand
3. The Long Trail of Imam Luqmaan
4. Wedding, Interrupted
5. Abu Aqeel
6. Recommended for Every Christian in America
7. No Easy Answer
8. Mount Gebel
9. Eldar
10. "Follow on to Know the Lord"
11. Small Potatoes
12. "Shup Up, Grandma!"
13. Haider
14. The Unwise Taxi Driver
15. Slave!
16. Blame the British?
17. Confirmation From the Adversary
18. Tamerlan and Aafreen
19. "But Muhammad Was the Last Prophet"
20. The Gospel, on Call
Conclusion: "Lord, What Wilt Thou Have Me to Do?"
Glossary
Customers who bought this product also bought
Customers who viewed this product bought