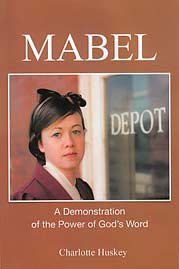 Mabel - [Hightower Book Series]
Paper cover
139 pages
0.48 lbs
Item #21-01
From the Hightower Book Series.
A Demonstration of the Power of God's Word
This memoir is about Mabel, a remarkable young girl left alone in the world. Her life is shattered when both her mother and brother die, and her father abandons her. While struggling to survive, she is mistreated and falsely accused. Mabel's strong faith in her heavenly Father is put to the test. Will she ever have a home to shut out the cold or a family with hearts of love as she once had?
After enduring four turbulent years, Mabel receives a letter from her papa. It is postmarked Oklahoma City. She uses all her money for a train ticket and goes searching for him. It is 1917, and without any modern communication, will Mabel find her papa in a city of 90,000 people? If by a miracle she finds him, will she be able to love and forgive him?
2 Corinthians 4:8-9—"We are troubled on every side, yet not distressed; we are perplexed, but not in despair; persecuted, but not forsaken; cast down, but not destroyed."
Mabel's young life is shipwrecked and torn to bits. She is troubled on every side, yet she is not forsaken by her heavenly Father. Will He ever restore her life and mend her broken heart? Can she believe in His plan for her life and trust He will give her good things when all she has known is affliction?
Contents

Preface
1. Searching for Papa
2. Meet Mabel's Family
3. Love One Another
4. Peace in Time of Trouble
5. Moving to Neosho
6. Mama Goes Away
7. Mabel Goes to School
8. Papa Goes to Arizona
9. A Servant for Mrs. McNally
10. Living with Mrs. Snodgrass
11. A New Plan
12. Where is Papa?
13. New Hope
14. A New Job and New Friends
15. Strange Problems
16. My Papa, My Papa
17. Mabel and Papa Make a Family
18. The Journal
19. A Better Job for Mabel
20. Sad News from Mangum
21. Mabel Finds a New Friend
22. Papa's Surprise
23. Love in Action
24. Those Dark Days
25. A Great Change
26. A Little About Mabel's Family
Acknowledgements
About the author
Customers who bought this product also bought
Customers who viewed this product bought