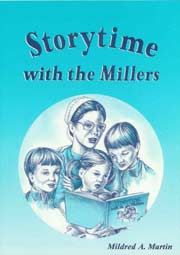 Storytime with the Millers
Paper cover
110 pages
0.42 lbs
Item #20-501
Valuable lessons for children ages 4-8
A book from the Miller Family Series.
Amos and his brothers learn a valuable lesson about returning good for evil in the story "The Indians and the Cookies." Paul, a 3-year-old farm boy, nearly loses his life through disobedience. Betty learns the hard way, that being bossy is not much fun!
"Storytime with the Millers" tells these stories and others, for preschool and primary-aged children. Each story is written in a lively, interesting style by the author of The Miller Family Series. Parents will find this an excellent book to read to small children, at bedtime or anytime! Children in the lower grades will be able to read the stories for themselves, and will find that children in these pages have the same problems and pleasures that they have.
Respect, responsibility, obedience, kindness, and humility are taught in a refreshingly direct and enjoyable way in this book.
Table of Contents

1. The Indians and the Cookies
2. Paul in the Pit
3. The Best Way to Help
4. Boys and Toys
5. Timmy Is Responsible
6. Timmy and the Sugar
7. Bossy Betty
8. Going for a Visit
9. Timmy's Goat
10. It's Safer to Be Plain
11. Benny's Bible
12. Mama and the Silver Dollar
Customers who bought this product also bought
Customers who viewed this product bought