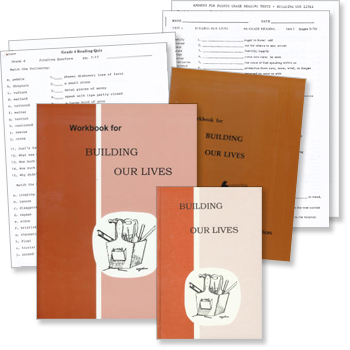 Grade 4 Pathway "Building Our Lives" Set
This grade contains 43 lessons plus 26 poems in 6 units.
The teacher's edition is a reduced copy of the workbook with answers filled in.
The quizzes are designed to increase reading comprehension, and should be done after reading each story and completing the associated workbook exercises.
The test packet includes 8 tests and an answer key sheet. Each test is to be taken after completing the reader pages indicated on the test.
Contents

Unit 1: Upward Trails

Jingling Quarters
Katie Couldn't Forget
Teacher's Pets
The Two-Faced Apple
The Toy Gun
Willing Workers
The Day the World Was Angry

Unit 2: Learning by Living

Once Well Done, Twice Done
Worse off than Wilma
The Hardest Word
Plain, Ordinary Food
The Empty Water Jug
What Love Will Do
Caught in a Trap

Unit 3: The World Around Us

Players in Fur
The Busiest Insect of All
The Whirlybird
The Beetree
Karen, the Kangaroo
Little Men of the Woods
Dotty, a Pacific Salmon

Unit 4: Growing Stronger

The Boy Who Had Ten Thumbs
Don't, David, Don't
Measuring a Promise
The Crooked Tree
The Big Boy
Bothersome Brothers
The Buggy that Buzzed
Surprises

Unit 5: Years Ago

Who Broke the Bit?
Rules or no Rules
The Friendly Visit
Home on Wheels
The Gold Dollar
Shadow of Danger
Room to Spare

Unit 6: Learning From Animals

A Home for Jenny Wren
Our Summer with the Wrens
The Seeing Eye
Jimmy and the Birds
The Robber
Ah-Tuck-Ta, my Little Polar Bear
Jack Miner's—Where Wild Birds are Tame

---

List of Poems

A Bird's Lesson
A Little Brother Follows Me
All Things Bright
A Servant
Be Careful What You Say
Bird Trades
Dare to Say "No"
I Must Be
Little by Little
Secret Things
Thank You, Heavenly Father
Thank You, Lord
The Boy and the Acorn
The Bravest Thing
The Chicken's Mistake
The Garden
The Garden [sic]
The Greatest Thing
The Prisoner
The Shepherd's Psalm
The Shining Web
The Spider and the Fly
This is my Father's World
Two Seeds
What Shall We Children Bring?
When Father Prays
Customers who bought this product also bought
Customers who viewed this product bought