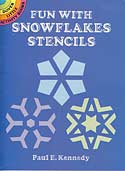 Fun with Snowflakes - Stencils
Size: 4-1/16" x 5-3/4". 6 stencils.
Of all nature's wonders, snowflakes are among the most intriguing. Now with this easy-to-use collection of snowflake stencils, children can create an enchanting snow shower or their own winter wonderland simply by repeating the lovely patterns of each sturdy, pre-cut stencil pattern. Perfect for window decorations, greeting cards, posters and much more, these symmetrical beauties will captivate you and old alike.
Customers who bought this product also bought
Customers who viewed this product bought