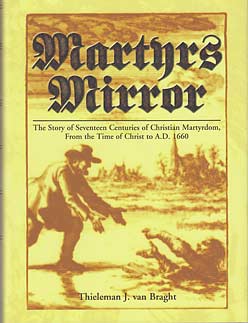 Martyrs Mirror
Hard cover
1158 pages
5.62 lbs
Item #1-6317
This gigantic work is the record of Christian faith and endurance from the first century to the Anabaptists of the seventeenth century.
Here are graphic accounts of more than four thousand Christians who endured suffering, torture, and a martyr's death because of their simple faith in the gospel of Christ.
Songs, letters, prayers, and confessions appear with the stories of many "defenseless Christians" who were able to love their enemies and return good for evil.
"Martyrs Mirror" calls believers to follow Jesus in all areas of life, even unto death. It includes more than fifty etchings by noted Dutch artist Jan Luyken.
Customers who bought this product also bought
Customers who viewed this product bought