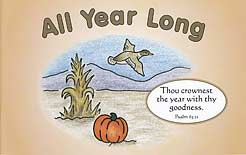 All Year Long - "God's Care" Coloring Book
Paper cover
32 pages
0.122 lbs
Item #1-2948
From the God's Care Series.
Thou crownest the year with thy goodness. Psalm 65:11
Size: 8" × 5"
Simple outline pictures from everyday life that children can relate to. Some dot-to-dot drawing and some number-sequence drawing make these coloring books a bit more activity oriented. Ideal for the developing child.
Dot-to-dot numbers 1 - 20
Customers who bought this product also bought
Customers who viewed this product bought