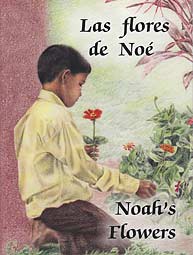 LJB - Las flores de Noé - Noah's Flowers
Soft cover
24 pages
0.14 lbs
Item #1-2801-1
En esta historia Noé tiene que trabajar duro y lidiar con animales, pero al fin tiene flores para compartir con otros.
---
This bilingual story set in Central America—with text in Spanish and English—tells of the challenges Noah must overcome to grow a beautiful bed of zinnias.
—¡Mami, Mami! ¡Hubiera visto! —exclamó Noé, entrando apresurado en la cocina—. ¡Hubiera visto las flores de doña Olivia! Jacobo y yo fuimos con Papá a llevarle leña, y ¡cuántas flores! ¡Flores de todo tipo!

—¡Qué bonito, mi hijo! —respondió Mamá—. ¿Hablaste con doña Olivia?

—Sí, y mire. ¡Me dio éstas! Son semillas de zinnia. Mami, yo también quiero tener un jardín de flores.

---

"Mother, mother!" Noah cried, dashing into the kitchen. "You should have seen Mrs. Olivia's flowers! Jacob and I went with Father to take her some firewood, and she has all kinds of flowers everywhere!"

"That's nice," Mother said with a smile. "Did you talk with Mrs. Olivia?"

"Yes, I did, and look what she gave me. They are zinnia seeds. Mother, I wish I could have a flower bed too."

...
Customers who bought this product also bought
Customers who viewed this product bought