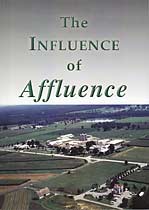 The Influence of Affluence
Paper cover
82 pages
0.19 lbs
Item #1-2604
God loves to provide well for His people. But He understands human nature. He knows how attractive material things can be. The more people have, the greater their temptation to use more and more for selfish reasons. So God gives His people outlets for the excess.
"Take heed, and beware of covetousness: for a man's life consisteth not in the abundance of the things which he possesseth" (Luke 12:15).
"Charge them that are rich... that they be rich in good works, ready to distribute,... laying up in store for themselves a good foundation" (1 Timothy 6:17-19).
The real enjoyment of riches is the ability to give and share freely with others. That is one way we can lay up treasures in heaven.
Table of Contents

Introduction
1. Defining Our Terms
2. Temptations That Come With Abundance
3. Affluence and Waste
4. Affluence and Amnesia
5. The Call to Gratitude
6. A Final Challenge
Conclusion
Appendix
Index of Scripture References
Customers who bought this product also bought
Customers who viewed this product bought