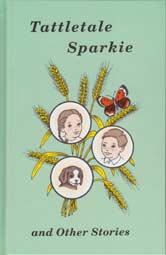 Tattletale Sparkie - and Other Stories
Hard cover
197 pages
0.84 lbs
Item #1-2427
The twins, Allen and Alice run down the dusty lane to Mr. Brown's wheat field. There, sitting on a big, flat rock, they contemplate doing something that they question is right for them to do.
When Sparkie and kind Mr Brown find them, they are filled with shame that they have yielded to the temptation. This is one of the thirty-five well-written stories for little children that make up this book.
A wide variety of lessons are taught such as kindness, sharing, helpfulness, unselfishness, being content, dependable, trusting in God for our needs. Many other Biblical principles are given simple, practical application for the spiritual nurture of young readers.
The story settings portray warm family relationships, and friendships in which proper values and respect are taught. The characters are normal, true-to-life children whose activities will hold interest of the young reader.
Attractively illustrated, this book provides a delightful way to instill truths for God's Word in the preschool and primary age group.
Contents

1. Tattletale Sparkie
2. Terry's Ride
3. Keith's Surprises
4. The Cardinal
5. Come Immediately
6. "Who Can I Be Like?"
7. At Sewing Circle
8. God Sent Mittens
9. Tooth Trouble
10. Like Jesus and Rosalie
11. Helpers at Hilltop House
12. The Forgotten Boy
13. Big Jobs and Little Jobs
14. Springtime Music
15. Apples and Blessings
16. Joanna's Birthday
17. Learning to Read
18. The Happy Way
19. Just for Fun
20. Runaway Car
21. Gold Star for Linda
22. Paul's Own Business
23. Strawberries to Give
24. We Learn to Wait
25. Forgive Little Brother
26. Grandma's Canaries
27. Cornbread for Emily
28. Up Into a Tree
29. Sing the Grumbles Away
30. Kenny and the Animals
31. God Is Good
32. Gypsy Wagons
33. New Home for Teddy
34. Fire!
35. Race to the Mailbox
Customers who bought this product also bought
Customers who viewed this product bought