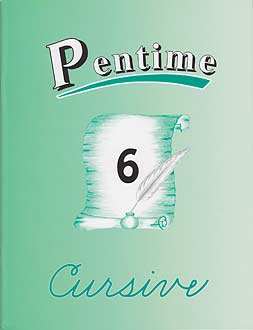 Grade 6 Pentime - Cursive
Paper cover
70 pages
0.48 lbs
Item #35-26
This course is designed to teach cursive handwriting skills with a minimum of teacher supervision. However, it is necessary for teachers to watch the students' progress carefully. This book includes "teacher checkpoint" reports periodically at the top of the page.
The poem sheets are designed for students to color and remove, using them as mottoes, or putting them in a folder for a keepsake.
There are two practice sheet pages at the back of the book that may be removed and copied for students who need extra practice.
The fold-out sheet with slant lines at the back of the book may be tucked under the pages on the right hand side of the book as a guide to proper slant.
For added interest, this book features inspirational sayings, occasional Scripture verse and poem practice sheets, insights on wildlife and nature (inside the back flap is a colored reference print of the selected animals), and a Morse Code primer along with page numbers printed in Morse code.
Contents

directions for handwriting posture
Letter Group Charts
Pentime Cursive and Pentime Manuscript
Gray Squirrel
Bald Eagle
Mourning Cloak
Scripture practice
Coyote
Bobwhite
Red Admiral
poem practice
Morse Code
White-Tailed Deer
Northern Junco
Diana
Scripture practice
Bighorn Sheep
Chickadee
Monarch
poem practice
Writer's Checklist Self-check your handwriting
Badger
Goldfinch
Great Purple Hairstreak
Scripture practice
Moose
Purple Martin
Tiger Swallowtail
poem practice
How's Your Writing? checklist
Sea Lion
House Wren
Great Southern White
Scripture practice
Porcupine
Eastern Meadowlark
Orange Sulpher
poem practice
Cursive and Manuscript practice sheet
blank practice sheet
slant guide fold-out
Customers who bought this product also bought
Customers who viewed this product bought