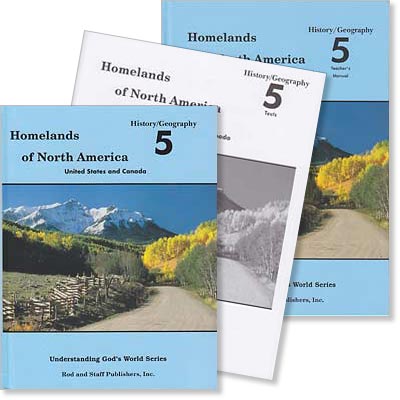 Grade 5 History/Geography "Homelands of North America" Set
This textbook discusses the history of United States and Canada from pre-colonial times to modern days. American Indian culture, conditions in Europe leading to American colonization, explorations, early colonies, new governments, the spread of North American civilization, and more is taught from a Biblical perspective.
Geographical knowledge and map making is emphasized in this course. Indian tribe distribution, early American settlements, westward expansion routes and patterns, modern political borders and geographical regions, and more is reinforced with exercises requiring students to fill out blank outline maps. The twenty basic outlines maps are in the back of the pupil's textbook and may be copied or traced as needed.
Over 280 maps, illustrations, and photographs are shown in color and black and white. Study exercises are included for each lesson. There are 78 lessons, plus 13 reviews.
A separate test booklet contains the 14 tests.
The hardcover teacher's manual contains a reduced copy of each pupil's page, as well as copies of the tests with the answers filled in. Surrounding the pupil's pages are the answer key, main points, and other helpful information.
Supplementary items (not included):
Contents

To the Teacher

History
Teaching History
The Textbook
The Teacher's Manual

Chapter 1: The North American Continent

1. Where Is North America?
2. United States Geography
3. Canadian Geography
Review

Chapter 2: The First North Americans

4. Who Were the Indians?
5. The Northeast Woodland Tribes—Farmers and Hunters
6. The Southeast Woodland Tribes—Woodsmen and Farmers
7. The Great Plains Tribes—Buffalo Hunters and Tepee Travelers
8. The Southwest Tribes—Apartment Dwellers of the Desert
9. The Intermountain and California Tribes—Seed Eaters and Basket Makers
10. The Northwest Coastal Tribes—Carvers and Boat Builders
11. The Arctic People—Dwellers of the North Lands
Review
So Far This Year

Chapter 3: Europeans Come to North America

12. Europe—Crowded Land of Troubles
13. Europeans Come to America
14. Jamestown—the English in America
15. Quebec—Beginning of the New French Empire
16. Plymouth Colony—the Beginning of Massachusetts
17. Boston and Providence—Growing Pains in New England
18. New Netherlands, New Sweden—New York and Log Cabins
19. Pennsylvania—Peaceful Refuge
20. Georgia—New Home for the Poor
Review
So Far This Year

Chapter 4: Life in Colonial America

21. French Canada—Rugged Life and Rented Farms
22. New England—Farming Fisherman
23. Pennsylvania—Life in the Middle Colonies
24. Virginia and Maryland—Pioneers Moving South
25. The South—Plantation Homes
Review
So Far This Year

Chapter 5: The Struggle to Govern North America

26. How the French and Spanish Treated the Indians
27. Indians and Settlers Break Their Friendship
28. The French and Indian War
29. The Colonies Begin to Revolt
30. The Revolutionary War
31. Those Who Would Not Fight
32. Making a New Government
33. Americans Move to Canada
Review
So Far This Year

Chapter 6: The Settled Country Grows and Changes

34. A Peaceful Revolution
35. Explorers Map the Pacific Region
36. The United States Doubles in Size
37. The United States Expands Again
38. Two Nations Share the Oregon Territory
39. Mormons Settle Utah
40. The Gold Rush
41. Indians Lose Their Eastern Homes
42. The Story of Hawaii
43. How Canada Moved Toward Independence
Review
So Far This Year

Chapter 7: Slavery and the Civil War

44. Slavery and the Underground Railroad
45. The War Between the States
46. The South After the Civil War
Review
So Far This Year

Chapter 8: Settlement of the West

47. Homesteading on the Great Plains
48. The Great Plains Becomes a Breadbasket
49. Settlers Move Onto the Last Frontier
50. Provinces Unite and Grow
Review
So Far This Year

Chapter 9: How Changes of the 1800s Affect Us

51. Doctors Make New Discoveries
52. Faster on Water, Faster on Land
53. Faster Communication
54. New Conveniences for the Home
55. Machinery Comes to the Farm
56. Conservation
Review
So Far This Year

Chapter 10: North America in the Twentieth Century

57. North America Enters a World War
58. The Great Depression
59. North America Enters World War Ii
60. Communism and the Cold War
61. North America Faces Recent Challenges
Review
So Far This Year

Chapter 11: Modern Life in America

62. Faster and Easier
63. Rich and Free in a Poor World
64. How Society Has Changed
65. What About the Future?
Review
So Far This Year

Chapter 12: Regions of United States

66. The New England States
67. The Middle Atlantic States
68. The Southern States
69. The Midwestern States
70. The Southwestern States
71. The Rocky Mountain States
72. The Pacific Coast States
73. Alaska and Hawaii
Review
So Far This Year

Chapter 13: Regions of Canada

74. The Atlantic Provinces
75. Quebec and Ontario
76. The Prairie Provinces
77. British Columbia
78. The Yukon and Northwest Territories
Review
So Far This Year

Map Section
Glossary
Tests Answer Key
Map Index
General Index
Photograph Credits
Customers who bought this product also bought
Customers who viewed this product bought