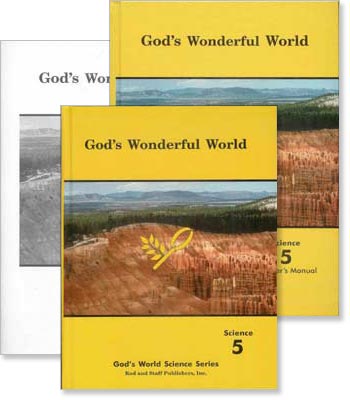 Grade 5 Science "God's Wonderful World" Set
God's World Science Series
The textbook contains 48 lessons (including 8 review lessons). All regular lessons also include a short review exercise. A few reviews draw from previous units.
Fifth graders should grow in their knowledge of the facts and the order of the created world. In Unit 1, they learn the basics of orderly, scientific study. God's wonderful world is best understood by careful observation and by consistent testing of one's conclusions. Observation of God's power and control is emphasized in Unit 3.
In Units 2 and 8, students study and classify various forms of life. In Units 4, 5, and 7 they become acquainted with practical applications of everyday science.
Various paragraphs stress the value of conserving God-given resources and the value of observing safety. The book teaches the principle of prevention and cautions students about harmful chemicals, insects, and plants. In addition to anatomy, Unit 6 teaches good care of the human body.
The theme and title of this book is God's Wonderful World. The many marvels of science and the numerous quotations from the Book of Psalms emphasize this theme.
Students will appreciate the interesting writing style of this book. And the pupil's book uses color pictures where color is important.
The hardcover Teacher's Manual contains reduced black-and-white copies of each pupil page. Surrounding the pupil pages are answer keys, lesson concepts, and other helpful teaching aids. Each of the eight units has a beginning story to read to the students.
The Teacher's Manual is written and designed with inexperienced teachers in mind. Most written exercises have answers that are easy to grade. Most of the additional activities suggested are inexpensive and do not require a lot of teacher time. The written exercises and tests do not depend on these activities.
The teacher's introduction suggests schedule plans for a school year. It also gives some ideas on how to review effectively and how to use the science activities. The back of the book has copies of the unit tests with answers in place.
Table of Contents

Unit 1: Science, the Study of God's Created Wonders

Story—"The Sweet Corn Experiment"
1. "By the Word of the Lord"
2. "Come and See the Works of God"
3. The Scientific Experiment
4. Unit 1 Review

Unit 2: Wonders Among the Arthropods

Story—"The Giant Spider Hunt"
5. The Armored Crustaceans
6. Spiders and Other Arachnids
7. Grasshoppers and Other Insects
8. Metamorphosis of the Butterfly
9. A World Abounding With Insects
10. Unit 2 Review

Unit 3: Wonders of the Earth and Sky

Story—"Trail to the Sky"
11. Majestic Mountains
12. Awesome Earthquakes
13. Magnificent Waterfalls
14. Mighty Oceans
15. Raging Storms
16. Wonders of Weather Patterns
17. Wonders Above the Earth.
18. Unit 3 Review

Unit 4: Wonderful Laws of Motion and Machines

Story—"Caleb's Machines"
19. God's Laws of Moving Things
20. Friction, a Help and a Hindrance to Work
21. Using Machines to Perform Work
22. Simple Machines; The Lever and the Inclined Plane
23. Four Other Simple Machines
24. Pumps to Move Liquids
25. Unit 4 Review

Unit 5: The Wonder of Chemicals

Story—"Chemical Cake"
26. How Chemicals Are Grouped
27. Changes in Chemicals
28. Fire, an Important Chemical Reaction
29. Acids and Bases
30. Using Chemicals Safely
31. Unit 5 Review

Unit 6: Wonders of the Human Body

Story—"Ouch, Mother; It Hurts!"
32. Bones for Support and Protection
33. Muscles That Move the Bones
34. Muscles in Organs
35. The Nervous System
36. Posture and Exercise
37. First Aid for Injuries
38. Unit 6 Review

Unit 7: The Wonder of Sound

Story—"The Big Silence That We Could Feel"
39. What Causes Sound
40. How Sound Travels
41. Pitch and Volume of Sound
42. Ears for Hearing Sound
43. Unit 7 Review

Unit 8: Wonders of Ferns, Mosses, and Plantlike Organisms

Story—"My Wilderness"
45. Mosses and Ferns
46. Bacteria
47. Fungi-Molds, Mushrooms, and Yeasts
48. Unit 8 Review
Customers who bought this product also bought
Customers who viewed this product bought