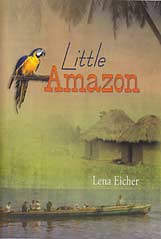 Little Amazon - Book
Paper cover
80 pages
0.22 lbs
Item #41-3035
Have you ever thought about becoming a missionary in a strange land? Maybe you have wanted to go on a trip to visit missionaries in other countries? Some of you have already traveled to another country, but for others of you, it may seem like a dream out of reach.
Long before going to far-off places, you can begin preparing yourself. Think about that first jet ride. Or flying in a small plane and landing on a dirt track in the jungle. What about boating up a jungle river? Or hiking through the jungle to tell a man in the next village about Jesus? Little Amazon can help prepare you by following the twelve-year-old Franklin and his family as they travel to Belize.
Enjoy Franklin's adventures and think about God's plan for your life. When God calls you, will you be ready to follow Him wherever He leads you?
1. Preparing for Belize
2. Crisis at Tampico
3. One Against a Thousand
4. Franklin Solves a Problem
5. Earnest 911 Prayers
6. God's Miraculous Answer
7. Xavier Clemente Tells His Story
8. Red Mud and Raw Coconuts
9. Cold Night Ride Into the Future
Customers who bought this product also bought
Customers who viewed this product bought