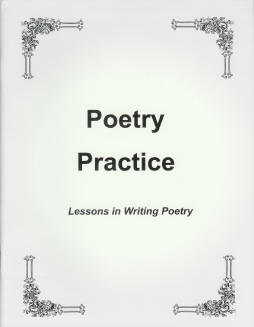 Poetry Practice: Lessons in Writing Poetry
Paper cover
80 pages
0.46 lbs
Item #39-6429
To the Teacher

Although it is far from being exhaustive, this course is designed to teach pupils the basics of writing poetry. Its 18 lessons are suitable for use with grades four to eight, although there are some parts which the younger pupils may find rather difficult. Lessons 16 and 17 are optional courses designed for the talented writer. All upper graders should be encouraged to read them, even though only a few will actually do them.

At the beginning of each lesson are several poems for the pupils to study. Be sure to have the pupils read them aloud before beginning the lesson.

At the end of the lessons are poems which other pupils wrote while doing this course. Hopefully your pupils will enjoy seeing the results of other children's efforts.

All pupils should be encouraged to go through the course even though more than half of them will likely never become poets. The disciplined writing is good exercise for all. Talented writers can benefit too, since writing poetry needs to be learned as surely as any other art needs to be learned.

Grading poetry can be quite a challenge. Be cautious about marking answers wrong where a variation in word choice is possible. Remember that creative writing requires a different kind of checking than factual work does. Since the course is designed to encourage the writing of poetry, be careful not to discourage your pupils. But neither should you be afraid to use constructive criticism, especially for those pupils who show a talent for writing poetry.

Expect everyone to read each lesson and answer the questions. But as you progress through the course, be on the lookout for those pupils whose poetic ability is very limited. Excuse them from actually writing the poems if trying to do so will bring nothing but frustration for them and you. Instead, have them write down the facts they learned, and grade them accordingly.

For this course to be truly successful, you as the teacher need to be enthused about it. Take the time to work you own way through the course. You will find it an interesting challenge especially if you are poetically inclined. Even if you aren't, you will likely learn a lot. It is even possible to teach the course successfully although you have no poetic talent.

Hopefully this poetry course can be a valuable classroom aid, uncovering some hidden poets, and encouraging the gifted writers into poetic fields. May it be used to the glory of God and the furtherance of His will.
Contents

Lesson 1 - Rhyme
Lesson 2 - Rhyme Inducement
Lesson 3 - Rhythm
Lesson 4 - Topic
Lesson 5 - Rhyming Schemes
Lesson 6 - Grammar
Lesson 7 - Word Choice
Lesson 8 - Review
Lesson 9 - Double Rhyming
Lesson 10 - Alliteration
Lesson 11 - Unusual Rhyming
Lesson 12 - Religious Poetry
Lesson 13 - Mood
Lesson 14 - Outlines
Lesson 15 - Narratives
Lesson 16 - Figures of Speech
Lesson 17 - Make Every Word Count
Lesson 18 - Final Review
Customers who bought this product also bought
Customers who viewed this product bought