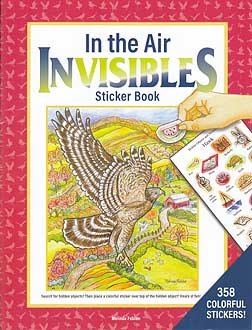 In the Air Invisibles Sticker Book
Paper cover
16 pages
0.322 lbs
Item #14-INV751
From the Invisibles Sticker Book Series.
358 colorful stickers! Ages 4 - 8
Fly through the air to discover lots of surprising things...
What? Am I seeing a brush on a blue jay's head?
Hmm... Is that a spool of thread on eagle's wings?
Is that... is that... a paintbrush floating on the water?
I can't believe it... What is that fish doing on a hummingbird?
In the Air Invisibles Sticker Book keeps you flying around finding hidden objects then placing a sticker over the object when you've found it. Lots of surprises are waiting... in the air!
Blue Jays
Cardinals
Eagles
Egrets
Flamingos
Geese
Hawk
Hummingbirds
Kingfishers
Macaws
Owl
Pelicans
Pheasants
Woodpeckers
Customers who bought this product also bought
Customers who viewed this product bought