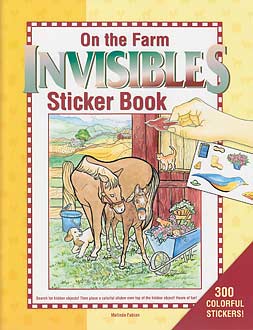 On the Farm Invisibles Sticker Book
Paper cover
16 pages
0.25 lbs
Item #14-INV447
From the Invisibles Sticker Book Series.
300 colorful stickers!
This book brings you lots of surprises. In this book there is...
a tomato hiding in a tree!
a scissors floating down the river!
a strawberry stuck on a cow!
an envelope on the side of a barn!
Besides all the fun hidden surprises, there's a sticker for each of the 300 hidden objects in this book.
Shhh! Promise to keep a secret? I'll tell you where we hid a seashell in a pig's ear! (It's on page 11—Shhh!)
Customers who bought this product also bought
Customers who viewed this product bought