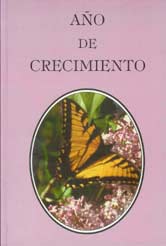 Año de crecimiento [Year of Growth]
Soft cover
255 pages
0.66 lbs
Item #1-S2484-1
Spanish edition of Year of Growth.
---
Continuación del libro Año de dudas. Escrito para adolescentes.
Loida es la mayor de los siete hijos de la familia Owen. Siete hijos es más que suficiente para crear un escenario en el cual nunca hay un momento aburrido. Añada a esto una serie de problemas contra los cuales Loida ha estado luchando y que reaparece en los momentos máas inoportunos, para convertir al verano en algo más que un verano común y corriente. ¿Acaso nunca logrará vencer sus problemas? A veces casi se desespera.
El verano está cargado de trabajos en la hortaliza, de preservar y congelar alimentos, además de proyectos de remodelación dentro y fuera de la casa, así como visitas especiales. Si tan sólo la mamá se sintiera bien y pudiera llevar las cosas, pero como siempre, el trabajo pesado a menudo parece caerle a Loida.
Las estaciones del año cambian. El otoño trae un nuevo curso escolar, y el invierno trae nuevas responsabiblidades. Hacia el fina de sus quince años, Loida está rumbo a encontrar algunas soluciones prácticas a sus problemsa , gracias a la ayuda tierna de sus padres y a un major entendimiento de cómo vivir una vida cristiana victoriosa por medio de la gracia de Dios.
Customers who bought this product also bought
Customers who viewed this product bought