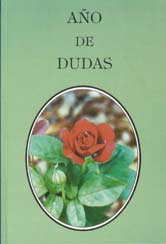 Año de dudas [Year of Doubt]
Soft cover
319 pages
0.8 lbs
Item #1-S2483-1
Spanish edition of Year of Doubt.
---
Con dificultad, Loida se tragó otro bocado de cereal de avena. Parecía que el cereal se iba transformando en mariposas en su estómago. ¡Cuánto temía al primer día de clases en una escuela nueva!

—Cálmate —le dijo el papá con una sonrisa...

Loida apretó sus dientes tan fuerte que le dolió las mandíbulas... Sus ojos se llenaron de lágrimas.
¡Una escuela nueva! ¡Una comunidad nueva! ¡Una iglesia nueva! ¿Les caería bien a las muchachas de aquí? Los cambios en su vida parecen más difíciles de lo que Loida Owen, una joven de catorce años, puede enfrentar.
La posibilidad de aceptación y éxito le parecería mayor a Loida si su familia no fuera tan numerosa—¡siete hijos! Y sus ertenencias... Si tan sólo tuvieran más dinero y pudieran arreglar algunas cosas...
Entonces Hilda, una muchacha obviamente rica, demuestra implacable oposición a la llegada de Loida a la escuela de Loma Verde. Loida también lucha contra los temores que continuamente la acechan debido al mal salud de su mamá. Tres enemigos—la ansiedad, la frustración y el fracaso—parecen ser los compañeros constantes de Loida. ¡Cuánto quería deshacerse de ellos! Sin embargo, resiste la ayuda que sus padres amorosos intentan brindarle.
Lea esta historia fascinante de cómo Loida busca la respuesta a todos sus problemas.
Customers who bought this product also bought
Customers who viewed this product bought