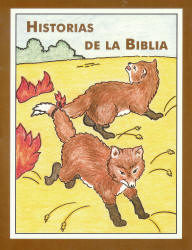 Historias de la Biblia [Bible Stories to Read]
Soft cover
135 pages
0.6 lbs
Item #1-S10002-1
Spanish edition of Bible Stories to Read.
---
También incluido en Libros preescolares en conjunto.
Historias de la Biblia es un libro de historias. Los números de las historias concuerdan con los del libro Dibujos de la Biblia para colorear. Se preparó el libro para que uno de los padres leyera una historia al niño antes que éste coloreara el dibujo que corresponde a ella. Cada historia contiene algunas preguntas para los niños, y un versículo corto para memorizar.
Customers who bought this product also bought
Customers who viewed this product bought