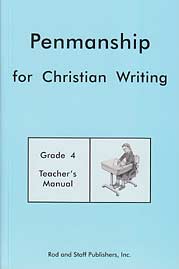 Grade 4 Penmanship [PREV EDITION] Teacher's Manual
Soft cover
79 pages
0.28 lbs
Item #1-P-15491
Teacher's manual for Grade 4 Penmanship previous edition (1983). This edition is not compatible with the current 2nd edition (2021).
30 lessons. The workbook is 8.25" high and 10.5" wide with tear-out sheets. Grade 4 reviews the slant print strokes, the formation of slant print letters, and numerals. In lessons 5 and 6 the cursive strokes are reviewed. Lessons 7 and 8 review the various aspects of quality: slant, size, alignment, height, letter spacing, word spacing, proportion, and neatness. In the remaining lessons the cursive letters are reviewed.
Throughout the year, the pupils write many sentences about animals. The aspects of quality listed above are drilled continually. The main emphasis of Grade 4 is on perfecting the students' cursive handwriting.
Tablets of writing paper are available that match the lines in the penmanship book.
Supplementary items (not included):
Table of Contents

Cursive Stroke Formations

Introduction to the Penmanship Series
Posture, Pencil Holding, and Paper Placement
Special Instructions for Left-handed Pupils
How to Treat the Teacher's Manual
To the Fourth Grade Teacher

1. Introduction
2. Slant Print Review (Part 1)
3. Slant Print Review (Part 2)
4. Numerals Review
5. Stroke Review (Part 1)
6. Stroke Review (Part 2)
7. Quality
8. Slant
9. Letters With Ovals
10. Letters With Upper Loops
11. Letters With Lower Loops
12. Alignment
13. Letters With Upper Stems
14. Short Letters Beginning With Undercurves
15. Short Letters Beginning With Overcurves
16. Size and Proportion
17. Capitals With Beginning Loops (Part 1)
18. Capitals With Beginning Loops (Part 2)
19. Proper Margins
20. Review of Slant, Alignment, and Proportion
21. Capitals With Reverse Loops
22. Capitals Beginning With Undercurves
23. Capitals Beginning With Overcurves, and Capital D
24. Letter Spacing
25. Word Spacing
26. Some Difficult Small Letters
27. More Difficult Small Letters
28. Difficult Capital Letters
29. Quality Checkup
30. Final Test
Customers who bought this product also bought
Customers who viewed this product bought