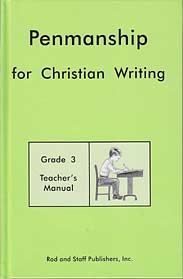 Grade 3 Penmanship [PREV EDITION] Teacher's Manual
Hard cover
149 pages
0.74 lbs
Item #1-P-15391
Also available
used
$5.94
Teacher's manual for Grade 3 Penmanship previous edition (1982). This edition is not compatible with the current 2nd edition (2021).
60 lessons. The workbook is 9" high and 11.5" wide with tear-out sheets. It reviews the formation of the slant print and cursive strokes and provides much exercise in writing sentences using the cursive letters. The sentences in Grade 3 give information about various birds. Formation of the numerals is also reviewed.
Throughout the lessons, much emphasis is placed on proper letter formation, correct slant, consistency of strokes, letter spacing, word spacing, size of writing, proportion, alignment, and neatness.
Tablets of writing paper are available that match the lines in the penmanship book.
Supplementary items (not included):
Table of Contents

Slant Print Stroke Formations
Cursive Stroke Formations

Introduction to the Penmanship Series
Posture, Pencil Holding, and Paper Placement
Special Instructions for Left-handed Pupils
How to Treat the Teacher's Manual
To the Third Grade Teacher

Unit 1 Slant Print and Small Cursive Letters

1. Introduction
2. Multiple Ovals and "Ups and Downs"
3. Undercurve, Overcurve, and Slant Strokes
4. A, B, and C in Slant Print; Numerals 1, 2, 3
5. Round-top and Sharp-top Forms
6. Round-bottom and Sharp-bottom Forms
7. Double Curves, Loops, and Retraces
8. D, E, and F in Slant Print
9. Small Cursive i and e
10. Small Cursive u and w
11. G, H, I and J in Slant Print; Numeral 4
12. Small Cursive l and b
13. Small Cursive h and k
14. K, L, M, and N in Slant Print; Numeral 5
15. Small Cursive f
16. Small Cursive g and q
17. O, P, and Q in Slant Print; Numerals 6, 7, 8
18. Small Cursive j
19. Small Cursive z
20. R, S, and T in Slant Print; Numerals 9, 0
21. Small Cursive v and y
22. Small Cursive x
23. Small Cursive a and d
24. U, V, and W in Slant Print
25. Small Cursive o and c
26. Small Cursive m and n
27. X, Y, and Z in Slant Print
28. Small Cursive p and t
29. Small Cursive r and s
30. Small Cursive Review

Unit 2 Cursive Capitals and Writing Quality

31. Stroke Review and Introduction to Capitals
32. Using Cursive Strokes to Make Capital Letters
33. Cursive Capitals A and O
34. Cursive Capital C
35. Cursive Capital I and J
36. Size
37. Proportion
38. Cursive Capital L
39. Cursive Capital B
40. Cursive Capitals P and R
41. Letter spacing
42. Word Spacing
43. Cursive Capital S
44. Cursive Capital G
45. Cursive Capitals H and K
46. Cursive Capitals M and N
47. Slant (Part 1)
48. Slant (Part 2)
49. Cursive Capitals U and V
50. Cursive Capitals W and X
51. Cursive Capitals Y and Z
52. Alignment (Part 1)
53. Alignment (Part 2)
54. Cursive Capital Q
55. Cursive Capital D
56. Cursive Capital E
57. Cursive Capitals T and F
58. Review of Form
59. Review of Quality
60. Final Test
Customers who bought this product also bought
Customers who viewed this product bought