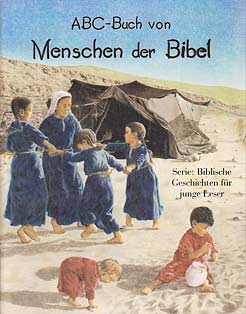 German - ABC-Buch von Menschen der Bibel [ABC Book of Bible People]
Soft cover
83 pages
0.47 lbs
Item #1-G2717-2
German edition of ABC Book of Bible People.
---
Belsazer war ein schlechter König. Er benutzte die goldenen Gefäße aus dem Tempel Gottes und trank Wein daraus. Das Volk aß und trank. Sie waren fröhlich. Sie priesen die Abgötter, die sie gemacht hatten.

Plötzlich sahen sie Finger, die etwas an die Wand schrieben. Das sah sehr ungewöhnlich aus. Nun war der König nicht mehr fröhlich. Ihm war sehr angst.
Was glaubst du, was haben die Finger geschrieben?
Hier gibt es kurze Geschichten über viele Menschen der Bibel—über Propheten, Diener, schlechte Könige, Kinder, Mütter, und viele mehr. Jeder Buchstabe des Alphabets ist mit einem oder mehr als einem Charakter aus der Bibel illustriert worden. Geschrieben für junge Leser.
Inhalt

Einleitung
A—Abraham, Adam, Aaron, Abigail
B—Baruch, Bileam, Belsazer, Bartimäus
C—Chusi
D—Debora, Daniel, Demetrius, Du
E—Eva, Elia, Esra, Eutychus
F—Felix, Festus, Fortunatus
G—Gehasi, Gideon, Gamaliel, Goliath
H—Hur, Hanna, Hiskia, Haman
I—Isaak, Ismael, Ikabod, Itthai
J—Jakobus und Johannes, Jakob, Jeremia, Jairus
K—Korah, Ketura, Kis, Kaleb, Kleophas, Kornelius, Königin von Reicharabien
L—Lazarus, Levi, Lukas
M—Mirjam, Mahlon, Mephiboseth, Maria
N—Nikodemus, Noah, Naboth, Nehemia
O—Obadja, Og, Obed, Onesimus
P—Petrus, Pilatus, Philippus, Priscilla
Q—Quartus
R—Rahab, Ruben, Rehabeam, Rhode
S—Saulus, Sadrach, Simeon, Stephanus
T—Tharah, Tobia, Thomas, Timotheus, Tabea
U—Urban, Usa, Usia
V—Vasthi
W—Wir
X—Xerxes
Y—Lydia
Z—Zachäus, Zippora, Ziba, Zacharias
Fragen und Antworten