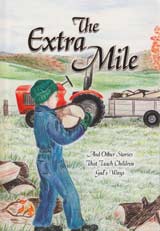 The Extra Mile
Paper cover
175 pages
0.51 lbs
Item #1-2699
And Other Stories That Teach Children God's Ways
Father and Grandfather were cutting up a big tree for firewood. Eight-year-old Galen and his younger sister Mabel helped Grandfather by loading his cart with the smaller pieces of wood. Then they unloaded and stacked it. It was a big job and took a long time.
After the first cartload was stacked, Father told Galen and Mabel that they could play. But many pieces of wood still lay on the ground around the big tree, and Father and Grandfather still had much work to do.
"Let's go the second mile for Grandfather," Galen suggested.
The Extra Mile contains thirty-five interesting stories for primary-aged children. Each story teaches important truths about the way God wants His people to live.
Contents

1. The Extra Mile
2. The Missing Worksheet
3. Caught on the Fishing Line
4. Marcus Builds Too
5. Matthew's Dollar Bill
6. A Good Patient
7. Grandmother's Helper
8. Time to Obey
9. Rachel Helps Her Sister
10. No More Stars
11. The Peach Decision
12. Recess Time for Eric
13. Playtime Troubles
14. A Letter for Grandmather
15. Keeping On and On
16. A Surprise for Sister Faith
17. Violet Shares Her Grandmother
18. Mrs. Palmer Forgets
19. Norma's Candy Cup
20. Rosanna's Father
21. A Little Extra Story Time
22. Anson Forgets
23. Arithmetic Perseverance
24. Aunt Barbara Too?
25. Ellen's New Friend
26. Good, Better, Best
27. Pitch and Catch
28. Aunt Rose Makes Tomato Soup
29. Ruby Describes
30. Sunshine Does Not Understand
31. Thank You, God, for Big Brothers
32. The Damaged Bible
33. The One Side
34. The Other Side
35. Working for Money
Customers who bought this product also bought
Customers who viewed this product bought