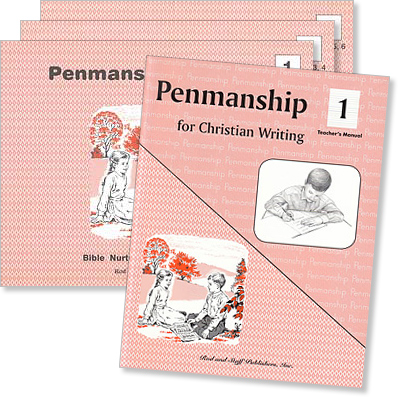 Grade 1 Penmanship "Penmanship for Christian Writing" Set [3rd Ed]
These materials are not compatible with the previous edition penmanship (1981-1988) or the 2nd edition reading printing practice (1985-1986).
The workbooks in this course are also included in the Grade 1 Reading set, with teaching instructions available in the Phonics Teacher's Manual that accompanies that program. These workbooks teach the strokes needed to form each letter as it is introduced in the phonics lessons. They provide much practice to develop the needed printing skills, and students also write their spelling words as part of their penmanship lessons.
This set, with its accompanying standalone teacher's manual, is recommended for those who do not plan on using the rest of the Grade 1 Reading program, or who simply want the stronger emphasis on penmanship that this teacher's book provides.
Supplementary items (not included):
Table of Contents

About the Grade 1 Penmanship Teacher's Manual
Teaching Penmanship by Strokes
Posture, Pencil Holding, and Paper Placement
Special Instructions for Left-Handed Pupils
Manuscript Demonstration Strokes
Teaching Numerals

Unit 1

1. Small Letter a
2. Small Letter e
3. Slant-Line Strokes
4. Small Letter i
5. Making Curves
6. Reviewing Strokes and Small a, e, i
7. Small Letter o
8. Small Letter u
9. Reviewing Strokes and Vowels
10. Small Letter s
11. Reviewing Small o, u, s
12. Small Letter t
13. Reviewing Strokes and Letters
14. Small Letter m
15. Reviewing Small m and Learning Part Circles

Unit 2

1. Reviewing Strokes and Letters
2. Small Letters c and k
3. Reviewing Small c and k
4. More Review of Small c and k
5. Small Letter b
6. Small Letter f
7. Reviewing Small k, b, f, s
8. Small Letter n
9. Small Letter y
10. Review
11. Small Letter p
12. Small Letter w
13. Small Letter h
14. Small Letter r
15. Review
16. Small Letter g
17. Small Letter l
18. Small Letter d
19. Small Letter v
20. Review
21. Small Letter j
22. Small Letter x
23. Small Letter z
24. Small Letter q
25. Review

Unit 3

Directions for Lessons in Unit 3
1. Lesson
⋮
30. Lesson

Unit 4

1. Capital Letter A
2. Capital Letter B
3. Capital Letter C
4. Capital Letter D
5. Capital Letter E
6. Capital Letter F
7. Review
8. Capital Letter G
9. Capital Letter H
10. Capital Letter I
11. Capital Letter J
12. Capital Letter K
13. Capital Letter L
14. Review
15. Capital Letter M
16. Capital Letter N
17. Capital Letter O
18. Capital Letter P
19. Capital Letter Q
20. Capital Letter R
21. Review
22. Capital Letter S
23. Capital Letter T
24. Capital Letter U
25. Capital Letter V
26. Capital Letter W
27. Capital Letter X
28. Capital Letter Y
29. Capital Letter Z
30. Review

Unit 5

Directions for Lessons in Unit 5
1. Lesson
⋮
30. Lesson

Unit 6

Directions for Lessons in Unit 6
1. Lesson
⋮
30. Lesson
Customers who bought this product also bought
Customers who viewed this product bought