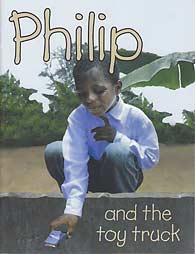 Philip and the Toy Truck
Paper cover
32 pages
0.14 lbs
Item #28-1146
At the market with his mother, Philip spies a toy truck that he wants. His mother tells him that he cannot have the truck. He already has a ball, she says, and the Bible says, "Be content with such things as ye have." Philip is not content, though, and so he steals his friend's toy truck. But this does not bring the satisfaction he expected. Philip finds happiness and contentment only after his parents help him return the stolen truck and clear up the lie he had told his teacher about it.
Dishonest children often grow into dishonest adults. One of the greatest gifts parents can give their children is to first be an example of honesty—and then make sure their children follow that example.
This true-to-life story is set in Ghana, West Africa. "Philip's" family is part of a conservative Mennonite church there. Not only will the book teach the values of honesty and contentment, it will also give your children a picture of life in a part of the world they might never visit.
Full-color photo illustrations.
Customers who bought this product also bought
Customers who viewed this product bought